If there's one Swiss replica watch that can be called a classic at IWC Fake Watches, it has to be the Portugieser Chronograph. One of the earliest models to be launched after the rebirth of the range, it succeeded the Portugieser Rattrapante with a simpler movement but almost identical design. And since its launch in 1998, with the exception of minimal design evolutions and a new movement, it hasn't changed a bit – and for the best. Recently, however, replica IWC presented a new duo of Portugieser watches with Panda blue dials. And now that we've managed to see it in the metal, I can tell you that there's a lot to love in what appeared at first as a negligible upgrade.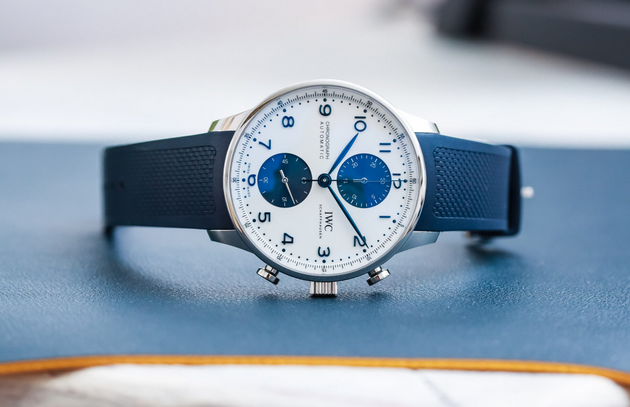 Let's start with a brief historical reminder. The original copy IWC Portugieser was born in the 1930s, following the request of two Portuguese merchants (named Rodrigues and Teixeira), who wanted the precision of IWC's deck clocks in wristwatch format for sailing. But that's not what really matters here. The other significant moment in the life of this emblematic watch occurred during the late 1990s. First, the brand (under the guidance of Günter Blümlein) released the all-important reference 3712, with a doppelchronograph movement created by Richard Habring. In 1998, three years after the introduction of the Chronograph Rattrapante, IWC replica watches launched a classic automatic chronograph edition, the reference IW3714. The design was identical; only the movement changed.
The beauty of the Portugieser Chronograph lies in its timeless nautical look, with sleek lines and the minimal bezel surrounding an oversized dial. It's clean, simple, and casual, with just the right dose of elegance. A watch that has changed in decades and that still looks superb. The only evolution that can be reported throughout its life occurred in 2020 when IWC launched the reference IW3716. Design-wise, almost nothing changed. Mechanically, it was time for a new proprietary movement with various upgrades.
Replica IWC Portugieser Chronograph 3716 in-house movement
As for the steel version of the replica IWC Portugieser Chronograph, four main models have long been available: the all-time classic silver dial with golden accents; the nautical-inspired silver dial with blue accents; a black dial with rhodium-plated accents; and a blue dial with rhodium-plated accents. If I am honest, I've always thought that the silver/blue edition was not only the most relevant in this nautical context but also the best-looking of them all. I'm slightly biased since I own the IW3714 with this dial myself… And there wasn't a single edition to change my mind, up until this summer, and the launch of a new model, still with a light-coloured dial and blue accents… However, some small updates to the dial colours and finishing, as well as a new strap, undoubtedly brought a fresh look.